Content Courtesy of

TV One

GARY AND JUICY RENEW THEIR FRIENDSHIP AND RICKEY WHILE ED SCHOOL D'ESSENCE DATING WITH CAUTION ON THE NEXT EPISODE OF RICKEY SMILEY FOR REAL,

TUESDAY, AUGUST 1 AT 8 P.M. ET
WASHINGTON, D.C.
-

July 31, 2017

-

Gary and Juicy

renew their vows of friendship,

D'essence

gets schooled by

Ed Lover

on dating inside the industry, and

Rickey

helps his friend

Koco

find support during her cancer battle, on the latest episode of

TV One's

Rickey Smiley For Real

, airing

Tuesday, August 1 at 8 p.m. ET

.
As

Juicy

sits in the stylists's chair at the salon,

Gary

seizes the opportunity to mend fences with her. The two have been on the outs since

Gary

began focusing his friend time on

Beyonce

and her pregnancy. Can they bury the hatchet and move forward?
"You hurt my feelings," says

Juicy

. "We've been friends for too long for you to just kick me to the curb for somebody just because they're pregnant... Not some times. I don't like fake friends."
Meanwhile,

D'essence and Cornbread

are still enjoying each other's company, maintaining that they are just "talking" and not officially together. But word of their relationship is traveling through the grapevine, and everyone, including

Ed Lover

, decides to drop their two cents on the situation.
"You gotta think about the residual effects," says

Ed

. "If things don't go right between you and him, then that messes up his relationship with Brat. That's Brat's artist, so between your dad and Brat that messes up their relationship. You know how your dad feels about you. "
Rickey
also cautions against the relationship, and says that she and

Cornbread

should lay out some ground rules in case things don't work out.
"It might get deep, it might not get deep, but just in case it does you need to have a conversation - not just about him doing something to you, but if you hurt his feelings. If we split up, you're not writing any songs about me,' or that type of stuff," says

Rickey

.
And in an effort to bring some peace of mind to his friend

Koco

, who is battling breast cancer for the third time,

Rickey

brings her to visit

Dr. Jackie Walters

, a correspondent on his radio show and a two-time cancer survivor herself.

Koco

, who is now trying different forms of experimental medicine and clinical trials, talks about how her faith has been tested, and

Dr. Jackie

gives her advice on how to remain strong in her fight.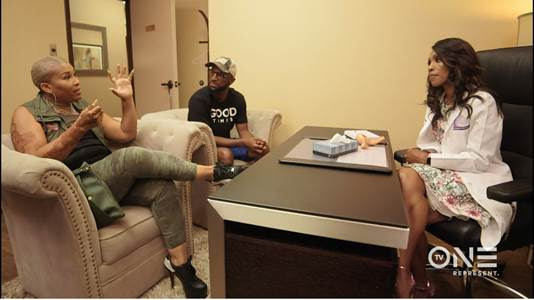 "
Your immune system is connected with your joy and happiness and if you give up, your body gives up," says

Dr. Jackie

. "Every time I had a thought that came to me, I talked back to it. I live by, 'I will live and not die.' It seems like your faith is making you whole. Because if I looked at you, I would never know you had breast cancer."
Rickey Smiley For Real
is produced by Bobbcat Films for

TV One

with

Rickey Smiley

and

Roger M. Bobb

as executive producers and

Angi Bones and Shante Paige

as co-executive producers. For

TV One

,

Robyn Greene Arrington

is vice president of original programming and production and

D'Angela Proctor

is head of original programming and production.